Fundación Equipo Humano (FEH), a non-profit organisation, is looking for an EU PROJECT OFFICER specialized in the access and management of European funds for the public and private sector.
The main responsibilities will be the design, presentation, implementation and management of projects co-financed by the European Union through the Erasmus +, COSME, EASI, EURES, Creative Europe, INTERREG, ENI CBC MED, Horizon Europe and/or LIFE programme. Further details on projects currently implemented will be given during the interview.
FEH is a private non-profit organisation that develops innovative solutions in training and HR management. Continuous innovation increases organisation's competitiveness enhancing the most value resource: people.
FEH's European Projects' Department identifies and implements European funding opportunities. We are fully committed to EU projects which have a positive impact on the civil society. Our core projects activities are related to employment, education, entrepreneurship, mobility of workers, social innovation, environment, climate change, circular economy, creative and social industries, among others.
It will be highly valuable experience in works related to the training and education sector.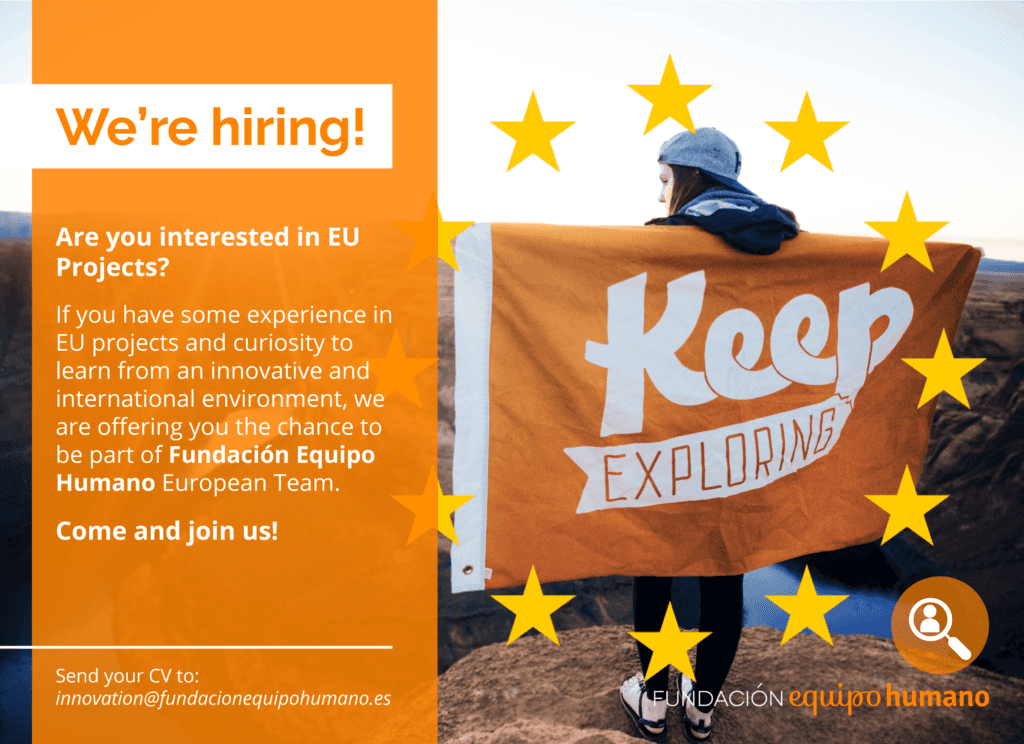 Job Description:
The work will consist of the implementation of EU project activities and Project´s Management following the European programs requirements, including:
Support for the implementation of financial, technical and administrative reporting systems;
Support for the implementation of the management activities;
Support for the implementation of communication activities;
Support for the definition and implementation of the type of actions and design of the monitoring system;
Development of EU proposals under supervision of the team in those areas of interest for the organization.
Other responsibilities within the company:
Specialized training and mentoring on how to access and manage EU funding;
Research of new partners and networks;
Identification of new EU funding opportunities;
Developing innovative training eLearning courses.
What do we offer:
Immediate incorporation;
You will become an EU funding and project manager expert;
You will have the opportunity to be in an international environment, working with an International Network including high standing companies;
You will acquire expertise coordinating large consortiums of EU projects partners;
Full time contract registration into the General Regime of Social Security;
Subsistence costs covered during travel;
You will participate and gain knowledge in disruptive methodologies in the HR field.
Note that the wage will be discussed according to the candidate experience.
Requirements:
Knowledge of European Projects and Programs Management, especially those linked to Erasmus +, COSME, INTERREG, H2020 and LIFE programme (Mandatory);
Experience in Global EU Project Management: administrative, financial, technical and communication execution (Mandatory, with at least 1 year of experience);
Experience in Financial Management: preparation of budgets, analysis of eligibility of expenditure, financial reporting (Mandatory, with at least 1 year of experience);
Knowledge of European regulations applicable to information and publicity for operations under European funds and programs, as well as the European Commission priorities (Mandatory);
Full availability for international travelling (Mandatory);
Desirable experience in works related to public administrations and beneficiaries of European funds, such as councils, chambers of commerce, local action groups (Desirable);
Experience in works related to the training and education sector (Desirable);
High level of English, C1 or equivalent (Mandatory);
High level of Spanish, C1 or equivalent (Mandatory);
Knowledge of other languages, such as French, Italian, German… (Desirable);
Being able to show initiative, take responsibilities, problem solving skills and work under pressure in an international working environment (Desirable);
Highly valuable knowledge in the fields of Training, Education, Entrepreneurship, Environment, Human Resources, Social Innovation, Creative Industries, among others;
Desirable digital skills (Moodle, Online Marketing, Social Media…).