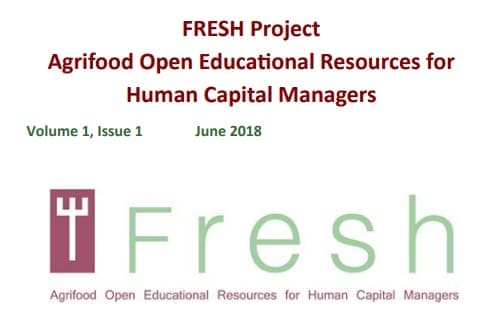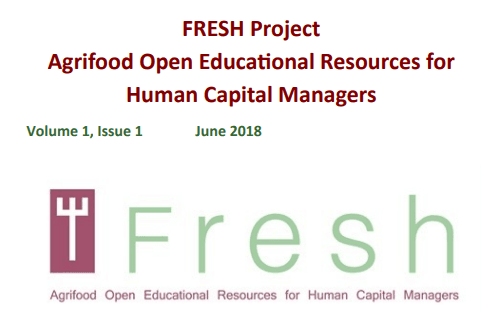 On October 2017 the project agriFood open educational RESources for Human capital managers, also known as FRESH Project, was launched under the Erasmus+ Program. Its main goal is to reduce the skill gaps that Small and Medium Size Companies (SMEs) have in Human Resources (HR) strategies by developing an open online tool about Human Resources Management (HRM).
Since the project was launched, two transnational meeting have taken place both in Valencia and in Athens, where the partners held discussions about the results of the project aims to such as the development of an European standard of professional competence, a curriculum on strategic HRM for small businesses in the agri-food sector or the development of an open source Learning Management System to help training managers of SMEs of the Agrifood sector in HRM skills.
The first newsletter of the project talks of these activities and others that FRESH has implemented like a survey on needs of HR of SMEs in the project countries and the structure of the course, which is already designed. Moreover, it highlights that those entities collaborating with the project can take advantage of its results, especially addressed to the Agrifood sector, Training centres and Human Resources Managers.
The FRESH project was approved in September, 2017 under the European program Erasmus+ and the action Strategic partnerships (Cooperation for innovation and the exchange of good practices). The consortium is formed by entities such as Fundación Equipo Humano (Spain) and FEDAVOVA, Federación Empresarial de Agroalimentación de la Comunidad Valenciana (Spain), ANIA, Association Nationale Des Industries Alimentaires (France), EDITC LTD (Cyprus), BIC Ljubljana, Biotehniski izobrazevalni center (Slovenia), NEC Cerknica, Notranjski Ekoloski Center Cerknica (Slovenia) y SEVT, Syndenos Ellinikon Viomichanion Trofimon Somateio (Greece).