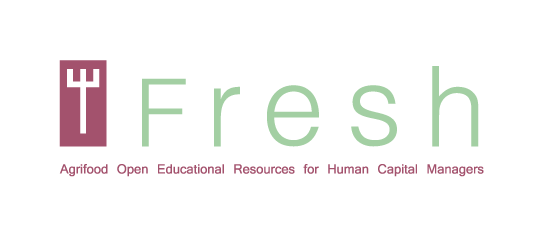 On 15th October 2017 the project agriFood open educational RESources for Human capital managers, also known as FRESH Project, was launched under the Erasmus+ Program. Its main goal is to reduce the skill gaps that Small and Medium Size Companies (SMEs) have in Human Resources (HR) strategies by developing an open online tool about Human Resources Management (HRM).
In 2015, CEDEFOP (European Centre for the Development of Vocational Training) revealed that the skills gaps are related to inefficient human resources practices such as an inadequate lifelong training of the employees or low quality jobs with low chances of promotion.
The project itself is aimed at human resources managers with either low or any professional skills. They will have the chance to participate in the training courses developed by the project to acquired knowledge, skills and high quality competences to maximize their companies and employees competitiveness.
FRESH gathers the expertise of different kind of entities in different fields like Human Resources and Fundación Equipo Humano (Spain), an ICT technology developer centre EDITC (Cyprus), two VET centres, BIC Ljubljana, Biotehniski izobrazevalni center (Slovenia), NEC Cerknica, NOTRANJSKI EKOLOSKI CENTER CERKNICA (Slovenia) and three agrifood companies and associations: FEDAVOVA, FEDERACION EMPRESARIAL DE AGROALIMENTACION DE LA COMUNIDAD VALENCIANA (Spain), SEVT, SYNDESMOS ELLINIKON VIOMICHANION TROFIMON SOMATEIO (Greece) and ANIA , ASSOCIATION NATIONALE DES INDUSTRIES ALIMENTAIRES (France).
Download our FRESH leaflet to know more about the project.