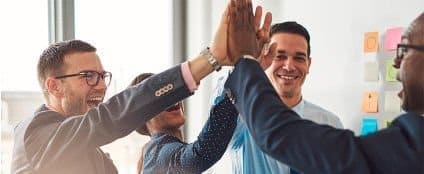 The Equipo Humano Foundation
The Equipo Humano Foundation is devoted to the social and economic integration of people into the labour market, especially of disadvantaged groups. The professional team of this private non-profit organisation believes in people as the most valuable resource for organisations and territorial development.
The Equipo Humano Foundation researches on the causes of unemployment and develops solutions aimed at improving employment opportunities for people. These include career guidance, labour intermediation, qualification and lifelong learning for adults, entrepreneurship and innovation in organisations.
What motivates us every day?
Reducing unemployment, precariousness, marginalization and social exclusion
Strengthening an economic ecosystem capable of creating jobs, social cohesion and care for the environment.
Developing talent and employability of the people
Promoting entrepreneurship and disruptive economic activities
How do we make it possible?
We develop individualised labour integration roadmaps and facilitate labour intermediation through our virtual platform "RECOLOCAte".
We adapt qualifications to the needs of the European labour market.
We develop lifelong learning trainings for adults on innovation, entrepreneurship, organisation management, climate change, environmental protection, social inclusion and governance. The training can be face-to-face, experiential, virtual or gamified. These actions are aimed at:

Professional recycling in mature sectors (textiles, metal, construction …)
Institutionalisation of new professions (eg University sustainable mobility manager)
Creation of emerging professional modules (environmental management for Laboratory Technicians).
We develop and provide non-formal training for adults in cross-disciplinary skills, especially addressed to groups at risk of exclusion (young people, over 45, women, migrants, minorities, etc.). These competences include:

o Leadership, communication, assertiveness, teamwork, conflict resolution, creativity, time management or negotiation.
We facilitate the mobility of entrepreneurs for the acquisition of initial experience in managing a business in a European host company.
We advise on strategic participatory planning, design and communication to local authorities, companies, associations and education centres.
We advise on the use of European Programs and Funds (Erasmus +, COSME, EaSI, LIFE, ERDF, ESF), as well as on the preparation and management of European projects to all public administrations, companies, associations and educational centres that have a positive impact on the integration of people into the labour market.
Yo can have a look at our presentation here.