MobiliseSME | Mobility Exchange Programme for SME Staff

Agreement No. VS/2020/0249
EaSI Programme (EURES, EISMEA)
Cámara de Comercio Española en Bélgica y Luxemburgo & Fundación Equipo Humano
12 partners | 13 countries | 32 months | 2.153.776€ budget
MobiliseSME IN A NUTSHELL
"A cross-border mobility programme, with zero bureaucracy and designed for European SMEs".
In recent years, the EU has developed several programmes and initiatives to support labour mobility and B2B partnerships, especially among SMEs.
Until now, there was no specific programme to support European workers to move to other companies outside their country and exchange knowledge. This has led to the creation of MobiliseSME.
MobiliseSME is a programme launched by the European Union (EaSI) to develop the competencies and skills of staff in European companies by supporting cross-border labour mobility.
The programme provides technical and financial assistance to SMEs by organising and supporting short secondments (1 to 6 months) in companies in other EU countries. These secondments are co-financed by the European Commission with monthly grants of up to 1,100 euros.
Based on the successful pilot project "MobiliseSME", implemented between 2015 and 2017, this programme aims to support people who are already employed and wish to experience cross-border mobility in another company for a limited period of time, while maintaining the contractual relationship with their employer.
The consortium is co-led by the Spanish Chamber of Commerce in Belgium and Luxembourg and Fundación Equipo Humano, together with 10 other entities from across the European Union. The countries involved are Belgium, Spain, Ireland, Serbia, Croatia, Slovakia, Slovenia, Italy, Austria, Greece, France and Montenegro. However, SMEs from all over the European Union can participate in the programme.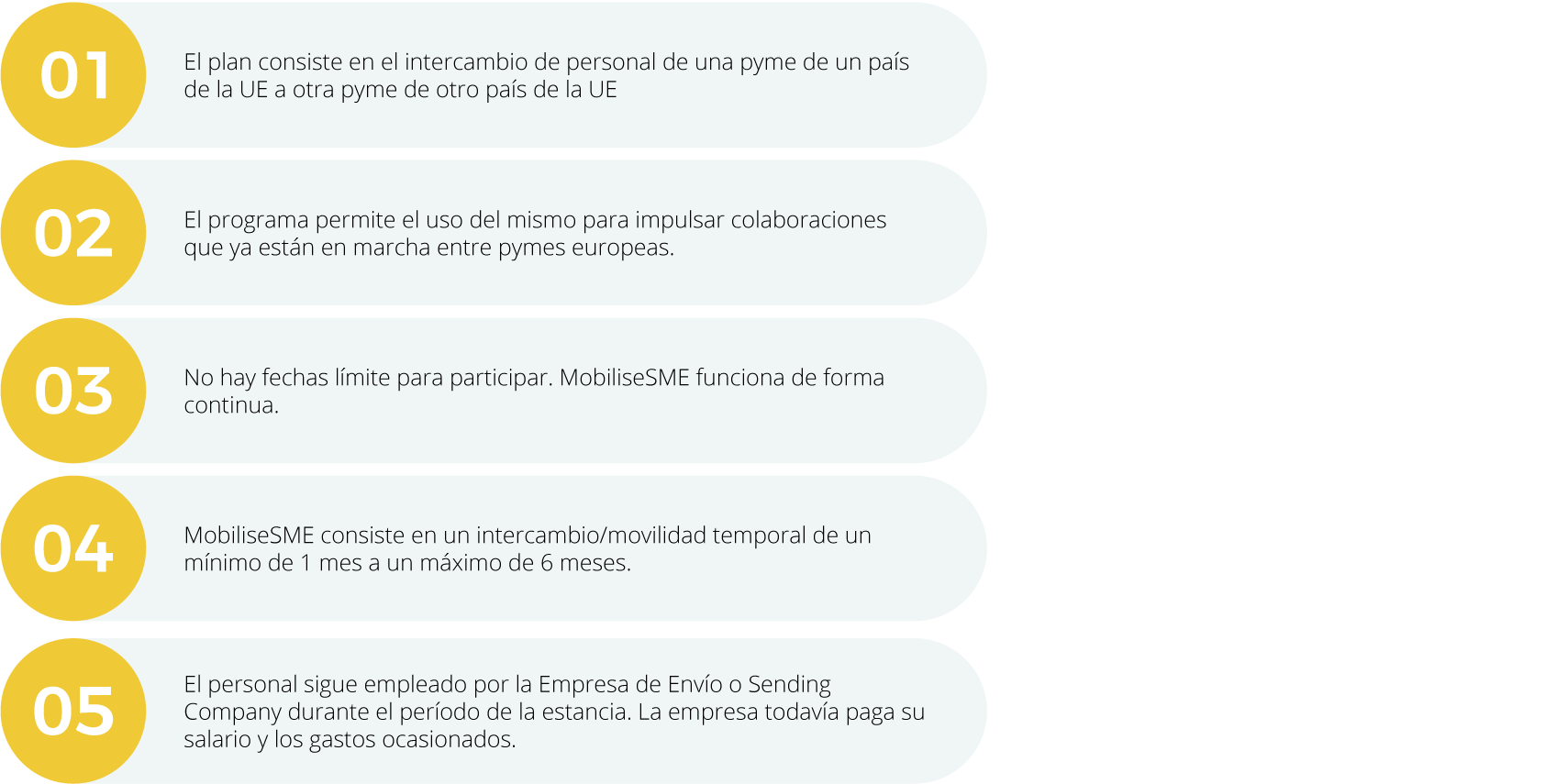 The general objective of the MobiliseSME programme is to support secondments and exchanges of employees, managers and/or (co-)owners of Small and Medium-sized Enterprises (SMEs) to another EU country.
These secondments or mobilities are in turn intended to provide European SMEs with the opportunity to:
Develop capacities and skills in the Host Companies.
Improve the productivity of their businesses.
Strengthen ties with European partners (thus increasing business opportunities).

In the current context, where many SMEs are rethinking their business models, MobiliseSME allows them to gain perspective and acquire new skills and knowledge. Thanks to MobiliseSME, companies can reorient and reconsider their strategies.
Thus, after participating in MobiliseSME, SMEs are equipped with tools and information to find business partners in the EU and establish synergies; expand their business, products and services (increasing their visibility at European level); as well as improve the knowledge, skills and competences of their staff.