Hernán Quipildor has recently participated in the Erasmus for Young Entrepreneurs programme (EASME, European Commission). His 6-month experience with James Lindon, host entrepreneur, has enriched him as a professional artist. Hernán has been able to get to know and establish direct contact with the business world of the artistic sector thanks to a British entrepreneur with a remarkable professional career.
The Erasmus for Young Entrepreneurs (EYE) programme enables any aspiring entrepreneur to acquire the necessary skills to successfully set up and/or run their own business in the European Union.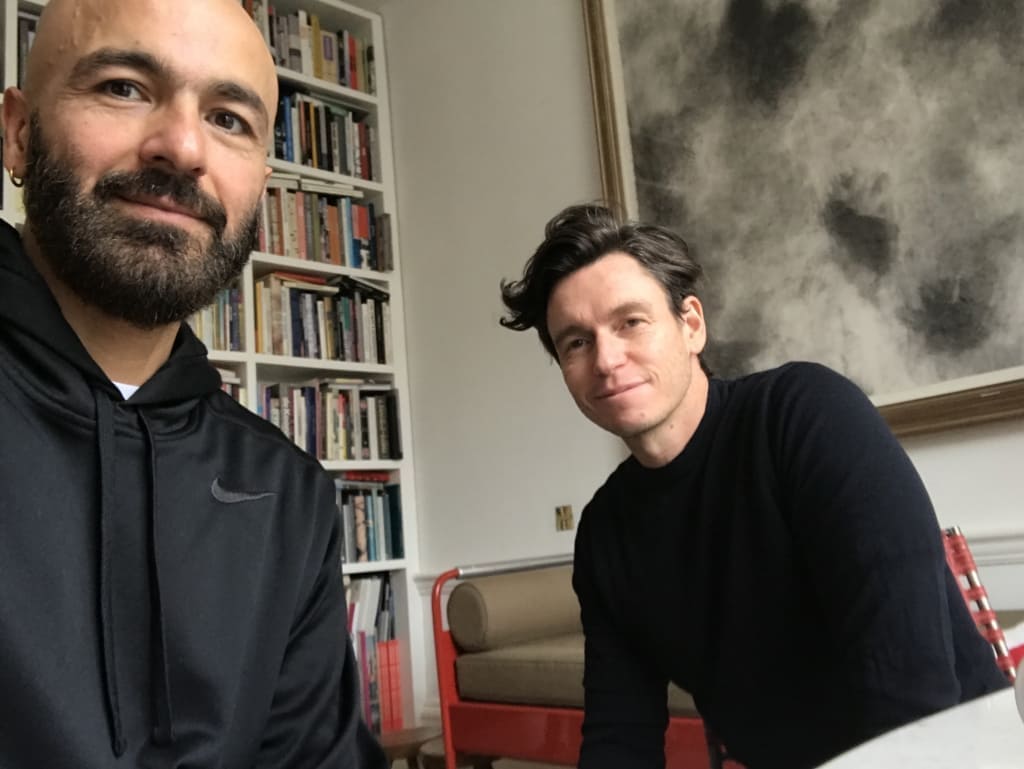 Interview with Hernán Quipildor
Tell us a bit about your professional career. What was your employment situation before participating in Erasmus for Young Entrepreneurs?
I pursued a career in banking until 2017, when I felt the need to start a new chapter which would focus on art making. This followed a publication of the book The Gesture (2016) where I presented concepts about consciousness, art and intentional evolution. I have always been an artist at heart and the move was profoundly vocacional. Becoming an artist has been mostly a discovery.
I started creating a body of work and reflecting on the concepts that manifested. The actual work informed my understanding of the practice and an overall vision started to emerge, which had The Gesture as conceptual pillar.
How did you come up with the business idea that led you to participate in the programme?
For a few years I worked intensively on the creation of a body of work that increasingly I felt the need to share and expand on. With these developments, initial ideas about an 'art enterprise' started to develop, as a mean to sustain a living, communicate my work and share its meaning with collectors and a larger audience.
How did you discover the Erasmus for Young Entrepreneurs programme?
I discovered Erasmus for Young Entrepreneurs through a friend, who has been a participant in the programme before.
Why were you interested in your Host Entrepreneur? How was the matching process? In which aspects did you think your Host Entrepreneur could help you in your Business Plan? Was this the case? If yes, which ones?
My host entrepreneur (HE) runs his own private art dealership and advisory business in London, working closely to collectors, institutions and artists.
This offered the perfect opportunity to learn about the art ecosystem beyond my studio. And even more, to receive first hand the insight and advice of an accomplished member of the art world.
The EYE experience has been very positive. We have been able to work together a lot (albeit the COVID situation and its evolution), and good progress has been accomplished on the communication aspects of my practice; also, through our interaction, new ideas and projects to develop together had arisen.
The Intermediary Organisations (IO) are the main point of contact for the Erasmus for Young Entrepreneurs Programme. What has your experience with them been like? What would you highlight?
The experience with my IO (Fundación Equipo Humano) has been very good. All the initial work to help establish the relationship has proved to be very useful and a good roadmap for the actual experience. All in all, I have felt very supported at all times.
We are currently trying to create an art exhibition at the British Library (IO of my HE).
Have you changed/modified any of the aspects/parts of your Business Plan? Which ones? What made you change that aspect?
The most important modification is that the Business Plan now starts to integrate new projects, which had arisen through this exchange.
How do you think you have contributed to improving the organisation of your HE?
Ideas are the seed of change for organisations and for us all. Having had the opportunity to discuss the moving scenarios that the world is presenting and share views on its possibilities has enriched us both.
In particular, we are working on a project together related to an art fund. The idea developed from the need of artists to come closer to collectors to support their work, so to develop an artist practice. The fund would facilitate access to artists and it would present an instrument to develop collective ownership.
What have been your responsibilities during these months? What knowledge or skills related to running a business would you say you have improved? 
During these months, we have discussed extensively about the art world and exchanged ideas about developing an artistic practice.
We have visited exhibitions together and we have brainstormed on ideas that would enrich and contribute into the art ecosystem. Also, we have focused on ideas related to favouring the development of an artistic enterprise, generous and focused demand from collectors and deeper interaction with and from artists.
What were your expectations of learning in the EYE programme, have they been met, and what benefits would you say your participation in the programme has had?
My expectations were to learn and elucidate a way to communicate and commerce my art, while staying true to its authentic expression.
These months allowed me to expand my vision on the possibilities for communicating through exhibitions and commerce. Also incorporating ideas related to the utilisation of space in the current 'social distance' scenario.
During the summer, we have done an art exhibition in the prestigious Azkuna Zentroa art center in Bilbao, participating in their Fatxada project:
https://www.azkunazentroa.eus/az/ingl/activities/fatxada-asier-irazabal-and-hernan-quipildor/al_evento_fa
After this mentorship in entrepreneurship, what are your future projects? Do you plan to continue collaborating with your host? What are the lessons you would take away from these months?
I feel that my artistic practice has grown stronger, nurtured by these months of exchange and mentoring. As a matter of fact, we are intending to continue collaborating together. 
A lesson from these months would be to always, and even more in uncertain times, nurture the core activities of our practices, understanding 'core activities' as the ones that best represent the essence of our offer, product or skill. Because are in those where the true contribution of our enterprise resides and because they are the origin for organic value creation. 
Finally, how has the COVID-19 situation affected you, how have you organised yourselves, what challenges and changes has it brought about in the management of your business?
The situation that COVID presented impacted us in a very immediate and practical way, as it restricted our mobility and access to work space. However, it allowed us to have deep interaction through one to one meetings when possible (i.e. socially-distanced long walks in the park), and a lot of digital exchange.
Most importantly, it has motivated a lot of reflection and discussion about working methods and the possible outcomes of the many transformations that have been triggered by the pandemia. 
If you want to know more about Hernán's work and career, we recommend you to visit his web page: https://www.aita.media/